HIGH FLOW RENTAL FILTRATION SOLUTIONS FOR REFINERIES
Scale capacity | Protect downstream equipment | Save capital budget with High Flow Rental Vessels
Jonell Systems High Flow Rental Vessels
High Flow Rental Vessels are engineered to help optimize the performance and reliability of your processes.
They are designed for utilization in liquid applications with high flow rates.
Manufactured to fit Jonell Systems Liquipleat HF Series Elements.
Jonell Systems Advantage
All our high flow rental vessels are designed to ASME Code Standards, Section VIII, Division 1.
Units are skid mounted with quick opening closures to meet refinery requirements and to maximize element accessibility ensuring minimum downtime during element change outs.
Our horizontal housings are designed to minimize pressure drop and allow easy filter cartridge replacements.
The primary focus of the Liquipleat™ HF Series design is to provide absolute rated efficiencies without compromising the cartridge service life. To achieve this, we select filtration media with exceptional contaminant holding properties, but comparatively low flow resistance.
Rental Services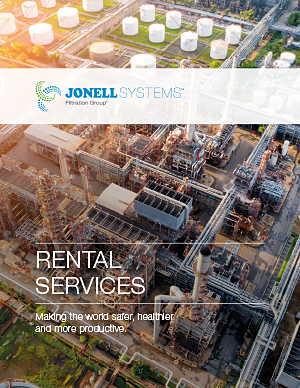 VESSEL SIZES
Single Element Housings
Three Element Housings
Seven Element Housings
TYPICAL APPLICATIONS
Hydrocarbon Feed
Amine
Glycol
Cooling Water
Finished Products
TYPICAL INDUSTRIES
Petrochemicals
Pipelines
Terminals
Oil Production
Benefits of Renting Filtration Vessels
Meet short-term process requirements quickly
Save on capital expense while meeting the filtration application requirements
Test filtration solutions in the field before investing in purchasing the equipment
Want to inquire about a high flow rental vessel?
Jonell Systems is now a part of Filtration Group.
Our experience and knowledge of application allow us to recommend innovative solutions and approach filtration with a process optimization mindset.
Get in touch to see how Jonell Systems rental vessels can help you today!